GRACE: Stories and a Novella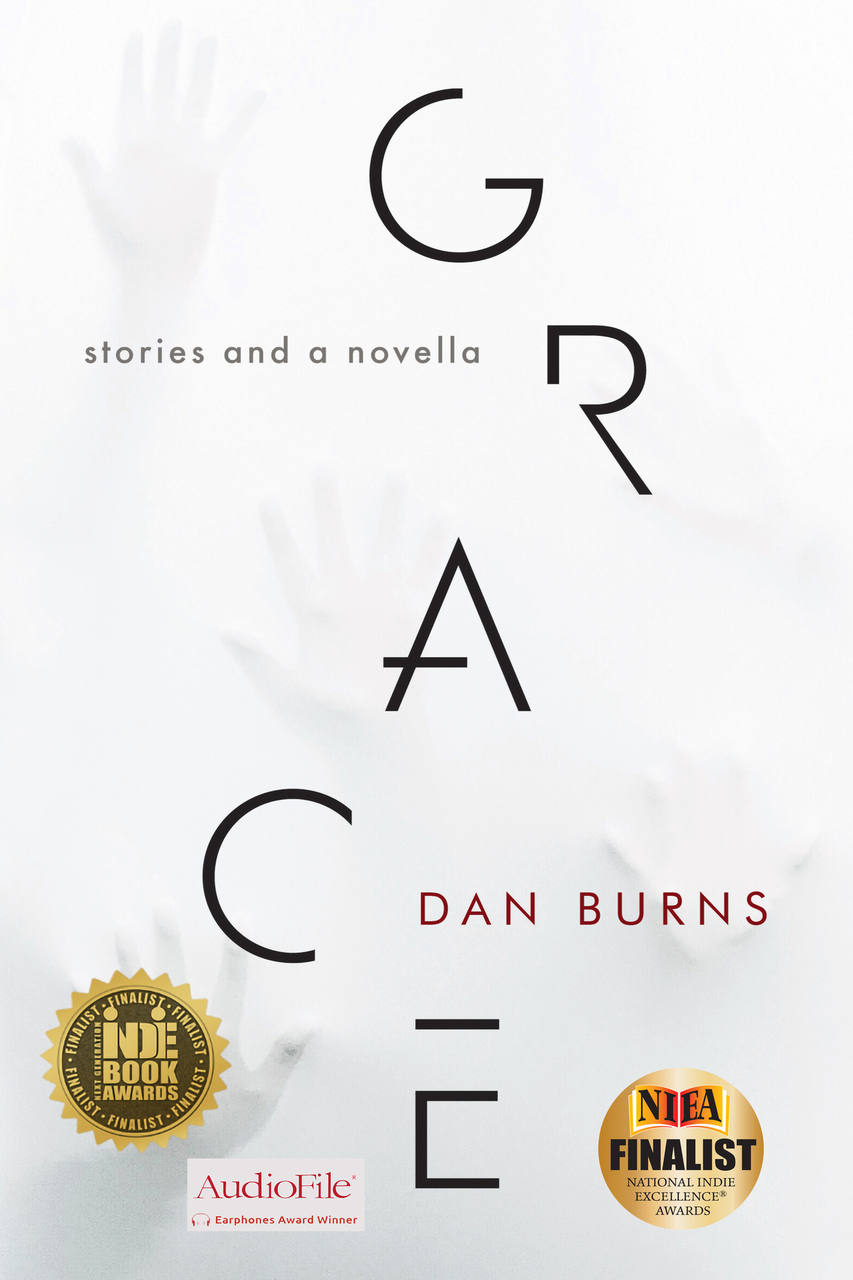 "Grace: Stories and a Novella is writing and literature at its very best." -Windy City Reviews
"We're all flawed and confronted daily with sometimes slight but often apparently insurmountable challenges. But if we dig deep, what we unearth from the depths of our souls, if we're lucky, can allow us to overcome and carry on to live another day with an untortured heart."

This is the sentiment Dan Burns explores in his exciting new collection. Five stories and a novella highlight Burns's range as a storyteller and his ability to see life and all its emotions through a unique lens. This collection features his most personal and insightful stories to date.

Redemption—In a quiet Montana town, an aging writer and his nephew are forced to weave the past and the present into a future of more significant meaning.

The Plight of Maximus Octavius Reinhold—In the new story featuring private investigator Sebastian Drake (from the novel A Fine Line), the local patrons of a rural Wisconsin town test Drake's resolve as he stares into the barrel of a .44 Magnum revolver.

Hardwired—A dying man contemplates the end of his life while hoping to pass along a secret legacy to his family.
Adrift at Sea—To fuel his creative desires, a seabound journeyman leaves behind the anchor of distraction in pursuit of a natural world.

The Final Countdown—In the year 2110, the Earth struggles to survive, ravaged by overpopulation and greed. Food is scarce, and the youth-run government has no choice but to implement a plan devised decades earlier: deport the elderly population to a remote outpost—on the moon.

Grace: A Novella—A story of impaired love, betrayal, and redemption as realized by characters who experience life through the perception of liquor-bottle glasses. Life is never what it seems. Everyone has secrets. The question is whether the skeleton key of alcohol will open the closet door and let out the hidden truths.

Hardcover First Edition (October 25, 2019), 292 pages, Signed by the author
Retail: $26.95 ON SALE Only $20.00
Trade Paperback First Edition (October 25, 2019), 292 pages, Signed by the author
Retail: $18.95 ON SALE Only $15.00
CLICK HERE to order your signed copy today!
CRITICAL ACCLAIM FOR GRACE: STORIES AND A NOVELLA
"It's my feeling that these stories will stay with us, move us, and change us for the better. These are not cardboard characters but real people who love, hate, worry, deny, and seek revenge. Grace: Stories and a Novella is writing and literature at its very best."
- Windy City Reviews
"This is a great mix of short stories with a little something for everyone. I appreciate the ease at which the author can move between genres; this shows a great amount of talent. The prose is smooth. The descriptions are rich, and the dialogue is realistic. Well done."
- 2020 Benjamin Franklin Awards
2020 Finalist, National Indie Excellence Book Awards
2020 Finalist, Next Generation Indie Book Awards
2020 Finalist, Chicago Writers Assocation Book of the Year Awards
Winner of AudioFile Earphones Award (audiobook), AudioFile Magazine
A FINE LINE: A Sebastian Drake Novel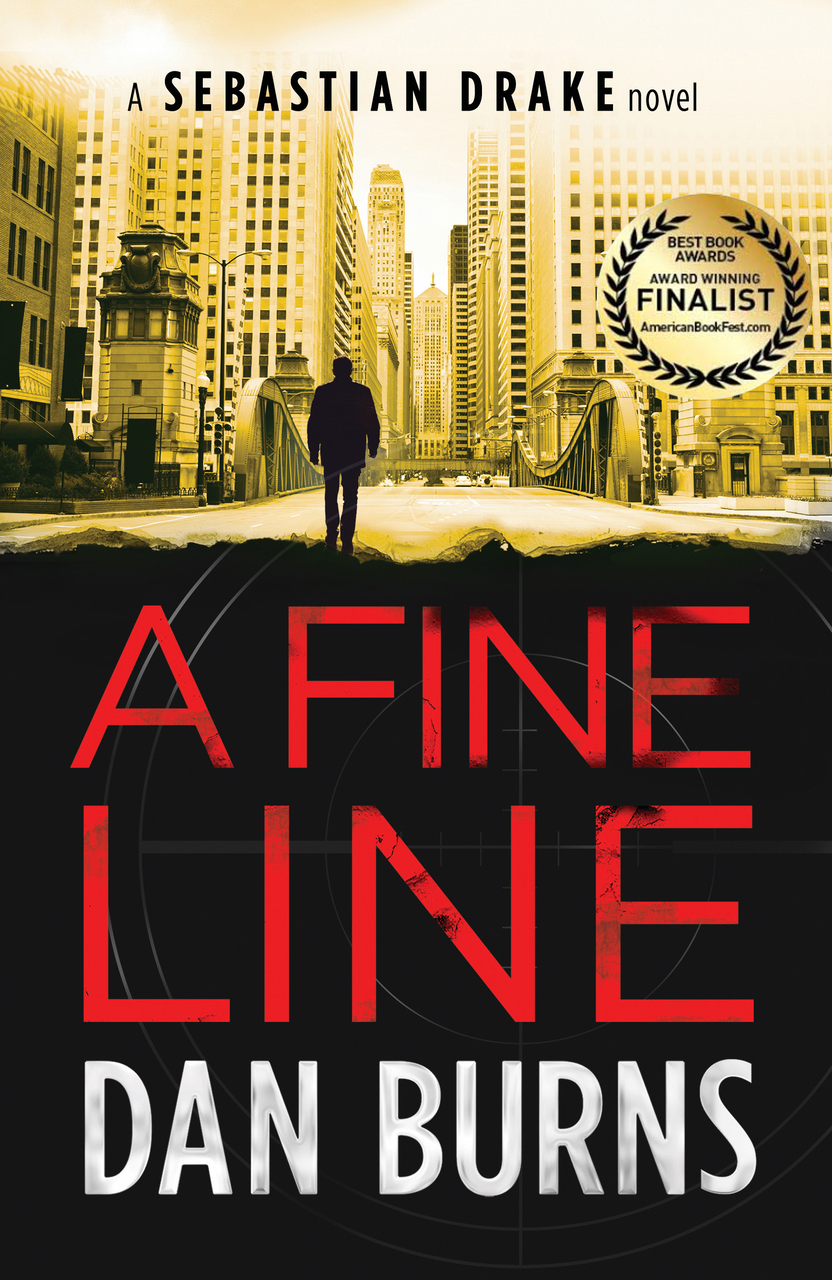 A Fine Line is a story about Sebastian Drake, a struggling writer working out of a dilapidated apartment in the city and trying to come up with his next story idea. Drake receives an unexpected visit from a man interested in hiring him for a project and who thinks he has just the solution to Drake's writing challenges. He also thinks that Drake's past and secret life with a shadow government organization is a valuable asset.
His proposition to Drake is simple: become a hired agent to investigate a cold murder case involving one of Chicago's most powerful political families. The job comes with a decent paycheck, all the support he might need, and the types of real life experiences that can form the basis for great fiction stories.
This is a story about a man with a new lease on life, a man who leads a dual existence. By day, he is an aspiring author. By night, he is a rogue undercover and unknown vigilante. His biggest challenge is keeping intact the fine line of reality and fiction.

Hardcover first edition (June 6, 2017), 294 pages, Signed by the author
Retail: $26.95 ON SALE Only $20.00
Trade Paperback first edition (April 5, 2018), 294 pages, Signed by the author
Retail: $18.95 ON SALE Only $15.00
The audiobook, narrated by George Guidall, is also available at Audible.com
"In this suspenseful page turner, bodies pile up, bourbon flows, cigarettes burn down, suspects multiply, and Sebastian Drake finds himself working a case that threatens everything he holds dear." The Booklife Prize
Award Finalist in the "Fiction: Mystery/Suspense" category of the
2017 American Book Fest Best Book Awards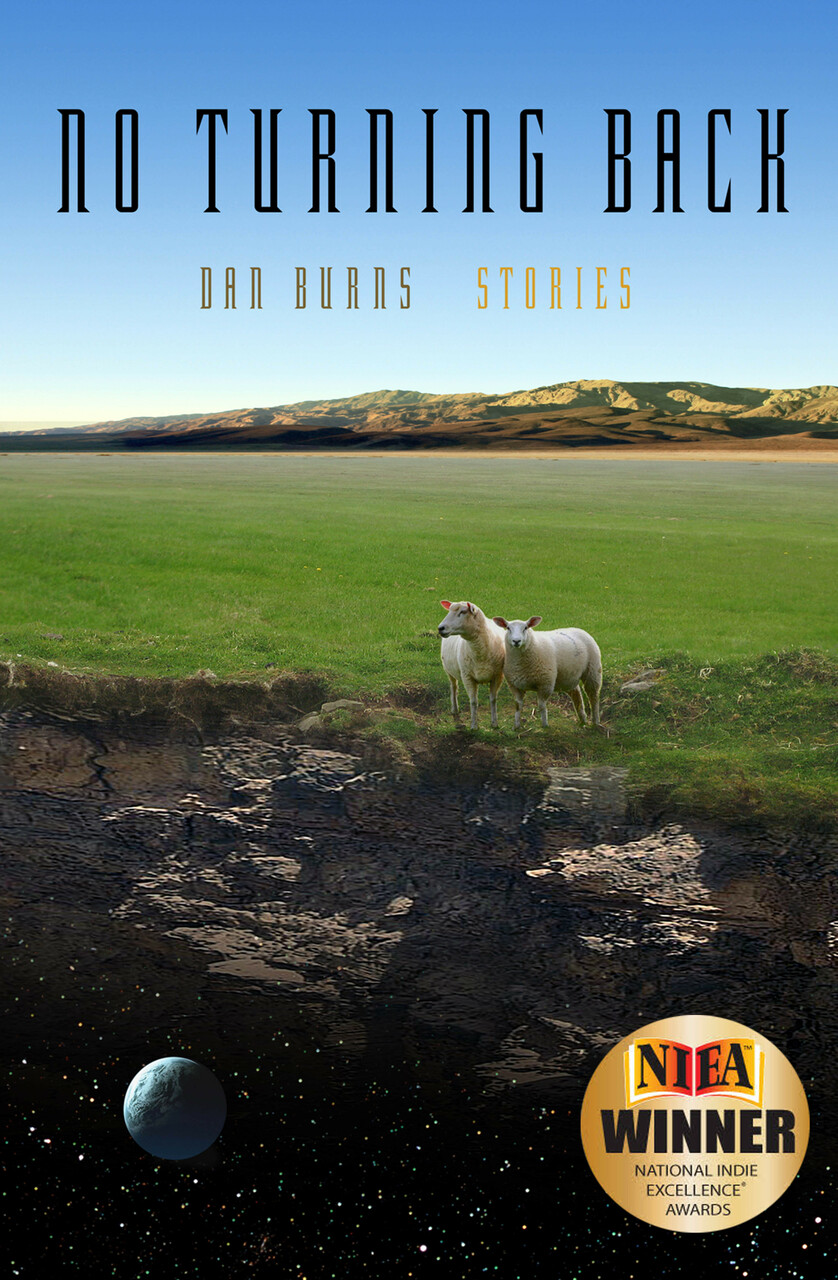 In No Turning Back, author Dan Burns shares an eclectic mix of stories that expand the boundaries of genre and imagination. Told with realistic and thought-provoking prose, each of the stories shine light on characters who, as a result of a particular experience, realize that they can't go back—in time or to the way life used to be. Moving forward is the only option, and what comes next is anyone's guess.

Published by Chicago Arts Press, this beautifully crafted hardcover edition includes story illustrations by Chicago artist Kelly Maryanski and an original cover design by world-renowned graphic artist Hugh Syme (album cover designer for the rock band Rush). Additionally, the author accompanies each story with his personal notes regarding the thoughts and ideas that inspired him to write the story, adding a unique behind-the-scenes perspective of the writing process. CLICK HERE for more details.

Hardcover (2014), Illustrated, 280 pages, signed by the author.
Retail: $24.95 ON SALE Only $20.00
Trade Paperback (2014), Illustrated, 280 pages, signed by the author.
Retail: $18.95 ON SALE Only $15.00
The audiobook, narrated by Dan Burns, is also available at Audible.com
Winner of the 9th Annual 2015 National Indie Excellence Award for Short Fiction

Award-Winning Finalist in the Fiction: Short Story category of the 2014 USA Best Book Awards

Honorable Mention - 2014 Chicago Writers Association Book of the Year Awards

"A variety of intriguing plots that will entice readers' interest."Kirkus Reviews

"No Turning Back is an excellent collection of stories that span genre and subject matter.
Every story is written with the finesse of an expert." Windy City Reviews

No Turning Back is an anthology of stories based on ideas plucked from a fine author's fertile and intelligent imagination."
Indiereader.com
RECALLED TO LIFE: A Novel
The story, Recalled to Life, was originally written as a feature film screenplay to rave reviews.

Nominated for Best Screenplay, 2017 Naperville Independent Film Festival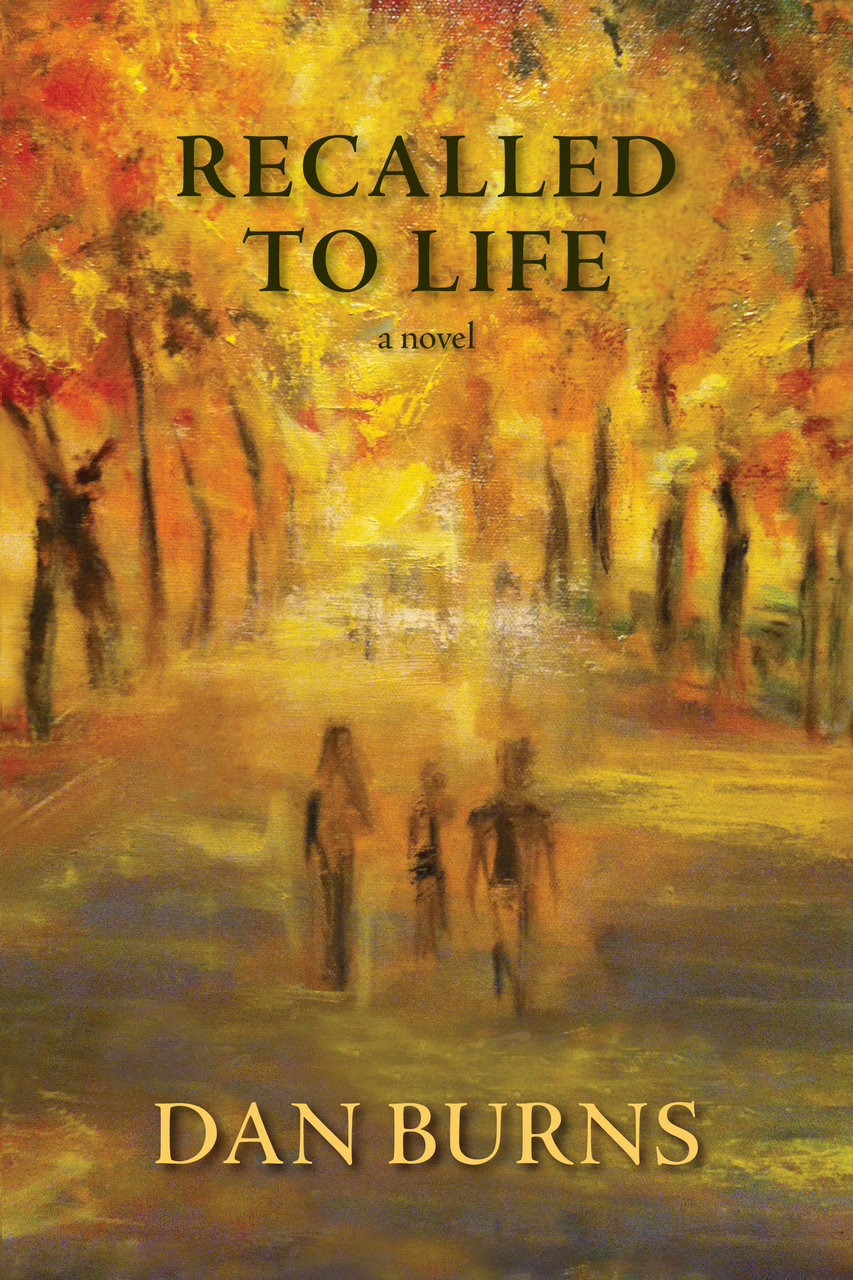 Chicago architect Peter O'Hara had a plan, a blueprint, for how he wanted to build his life. He had goals and ambitions and his path was clear. He had a loving wife and son, career success, and his final career goal was close within reach. The opportunity to become a partner in his firm was there for the taking. He almost had it all.

But life and fate do not consider such plans. An unbelievable and unplanned event sets off a domino effect of repercussions that turn Peter's life upside down, pushing him to his limits and causing him to re-evaluate everything he thought was important.

"Recalled to Life turns everyday life on its head, and begs the reader to look more carefully on the flimsy fabric and hard work that hold together happiness. This is a modern story of generational family life in which the parts don't neatly make a whole." - Don Evans, Director, Chicago Literary Hall of Fame


Hardcover First Edition (2013), 292 pages, Signed by the author
Retail: $26.95 ON SALE Only $20.00
Trade Paperback First Edition (2013) , 292 pages, Signed by the author
Retail: $18.95 ON SALE Only $15.00

Order your signed copy today!
The audiobook, narrated by Dan McGowan, is also available at Audible.com
WHERE IS DENNIS DEYOUNG? - A Short Film Screenplay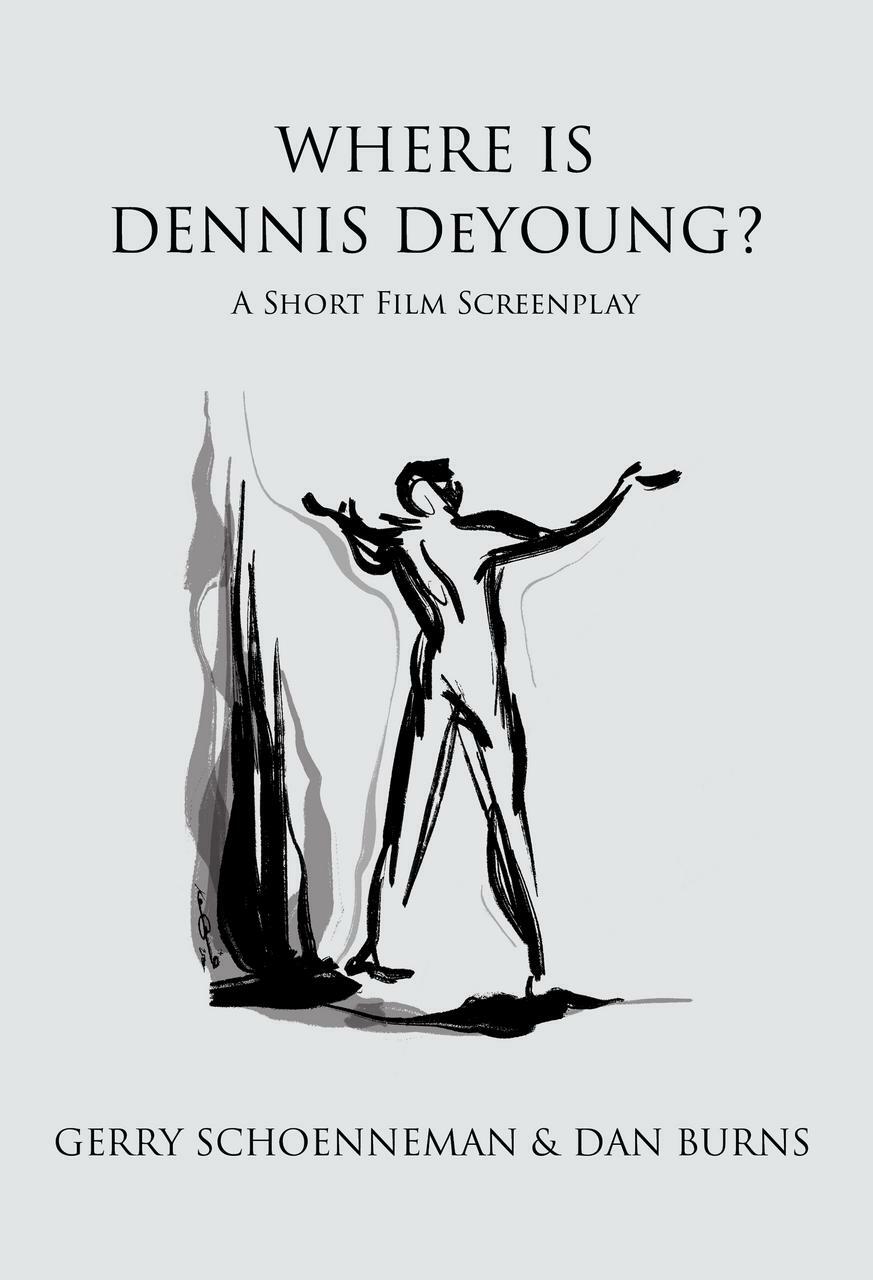 Life is too short to live with regrets.
Styx superfan Terry Skoonerman has hit the jackpot. After seeing his favorite band live, he and his friends revel in the concert highlights at a hotel bar. That's when Terry sees Styx's guitarist, James "JY" Young, walking toward an elevator. Seizing the opportunity, he rushes into the elevator just as the doors close.
Alone with one of his rock idols, Terry strikes up a conversation but, in his excitement, inadvertently calls James Young by the wrong name, and the chance meeting of a lifetime ends abruptly. James exits the elevator, disgusted.
Over the next several days, Terry struggles with the implications of his faux pas and finds himself in a web of depression and regret. But a miraculous revelation temporarily frees him from the dungeon that is his apartment and leads him on a profound (and comedic) journey of redemption.
Chicago Arts Press, First Limited Edition (December 2020)
Hardcover, Illustrated, 52 pages
Limited to only 100 copies numbered and signed by the authors
SOLD OUT
AUTHORS:
GERRY SCHOENNEMAN is a storyteller extraordinaire. After a thirty-year career in the information technology industry, he is now shifting his priorities to share his stories with the world and establish his legacy as a colorful raconteur. Of the millions of stories he has shared verbally over the years, Where Is Dennis DeYoung? is the first to be written and published.
DAN BURNS is the author of the novels Recalled to Life and A Fine Line and the short story collections No Turning Back: Stories and Grace: Stories and a Novella. He is also an award-winning writer of stories for the screen and stage.
THE FIRST 60 SECONDS: Win the Job Interview Before It Begins
In a past life, my company helped more than one thousand people obtain their next great career opportunity. This book is the culmination of fifteen years of experience and the essence of all the best job interviewing and career management techniques.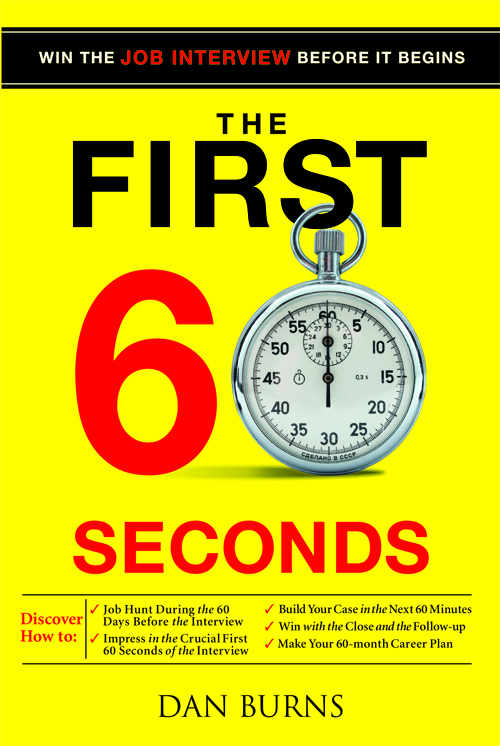 It All Happens In A Minute!

A hiring manager makes a decisive qualification of a job candidate within the first 60 seconds from the time they meet. This simple fact changes everything about how the individual needs to approach the job search process.

"A revolutionary way of looking at the job interview and how to effectively manage your career."


Sourcebooks, Trade Paperback, 275 pages, signed by the author.

Only $15.00

Order your signed copy today!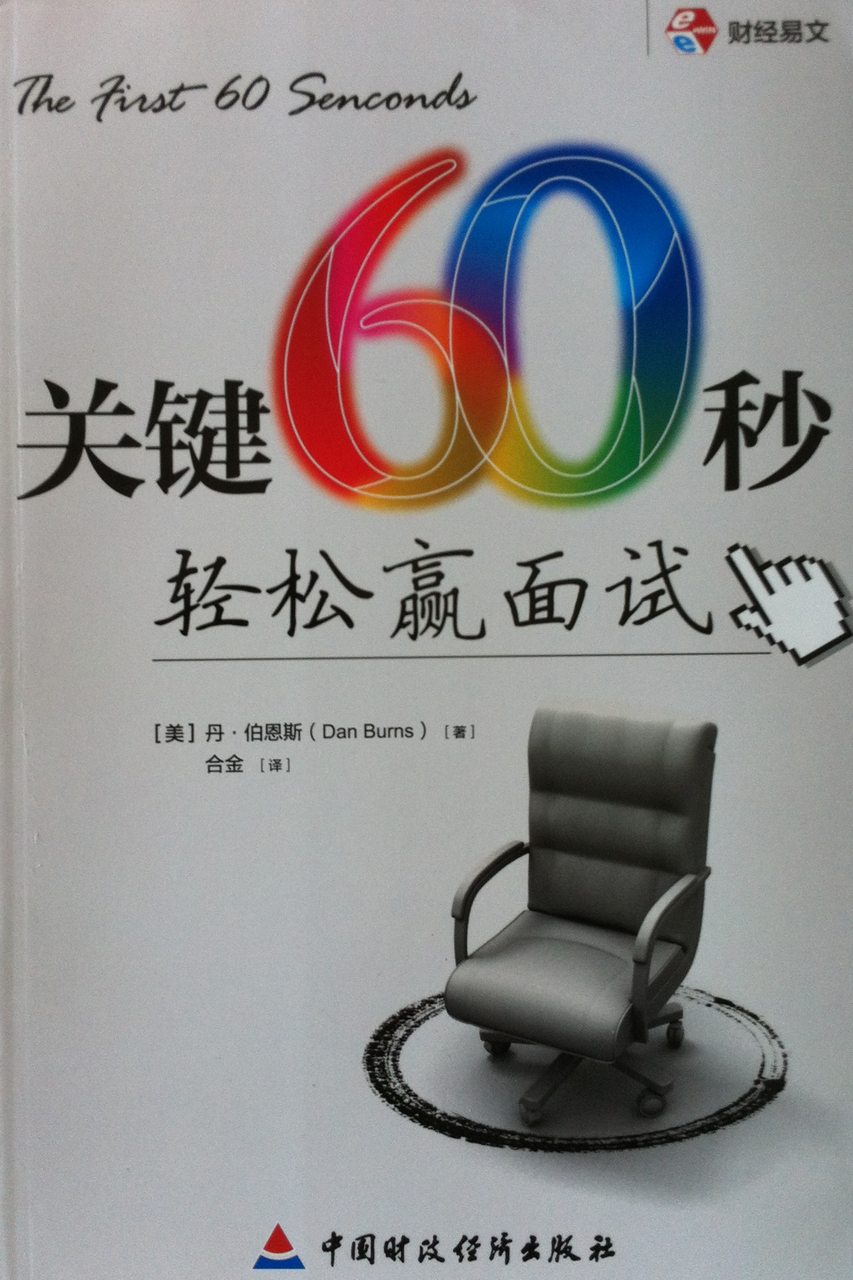 And then there's all this . . .